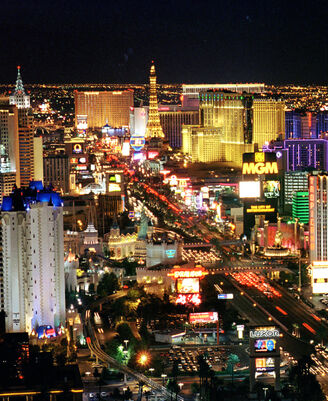 Sin City needs no introduction.
Casinos
Nightclubs
Golf courses (See Golfing section.)
Pinball Hall of Fame, 1610 E. Tropicana Ave., Las Vegas. (See story by PinballMuseum.org.)
The Neon Museum, 770 Las Vegas Blvd. North, Las Vegas. (See articles by the New York Times and Collectors Weekly.)
Adventure Combat Ops, 4375 S. Valley View Blvd., Las Vegas, Nevada.
Speed Las Vegas, 14200 S. Las Vegas Blvd., Las Vegas: Ferrari, Lamborghini, and muscle car driving experiences.
The Gun Store, 2900 East Tropicana Ave., Las Vegas: Indoor shooting range for locals and tourists, with more than 60 types of firearms to choose from, including full automatic machine guns, semi-automatic rifles, handguns and shotguns.
Las Vegas Gun Range, 4610 Blue Diamond Rd., Las Vegas, Nev. Rents handguns, combat rifles, etc.
Gun Garage, 5155 S. Dean Martin Drive, Las Vegas, Nev. Shooting range for
all types of guns, including machine guns. Overview articles on mancations in Las Vegas:
"Vegas - The Ultimate Mancation" by James Hills of Man Tripping.